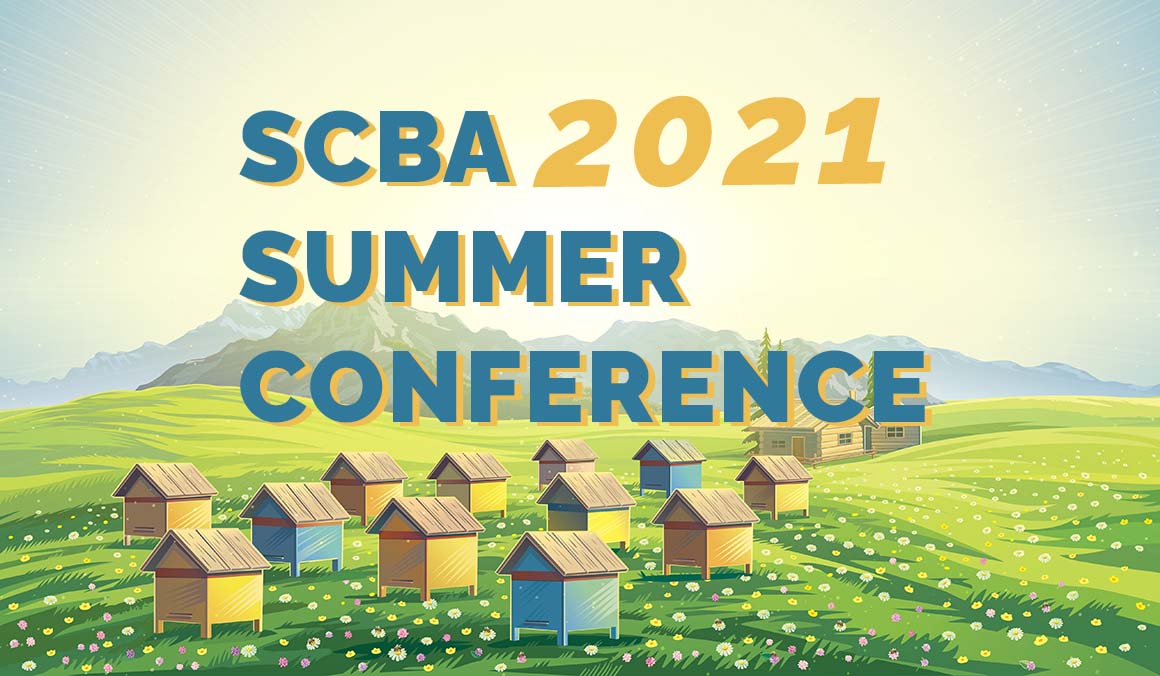 SCBA Summer Conference 2021
July 22-24, 2021
The SCBA Summer Conference 2021 is the conference for everyone.
Charleston, SC
Download Conference Schedule
Online conference registration is closed.
SCBA Member Rate (Lunch is Not Provided)
$50 – Early Registration – Sign Up by June 15, 2021
$75 – Sign Up After June 15, 2021
$85 – Sign Up At The Door
Non Member Rate (Lunch is Not Provided)
$75 – Sign Up by July 16, 2021
$85 – Sign Up At The Door
Hotel Information
Courtyard Charleston-North Charleston
7465 Northside Drive North Charleston, South Carolina 29420
Conference Schedule at a Glance
Thursday, July 22, 2021
South Carolina Master Beekeeping Certified, Journeyman, Master Classes and tests
Welsh Honey Judging class
Bee Yard
Master Beekeepers' Dinner
Vendor & beekeeper social
Friday, July 23, 2021
Honey Show
Honey Judging Academy
Main Tract:
Dr. Jamie Ellis – UFL- Worker honey bee behavior
Dr. Ashley Burns – History and scope of Clemson 4H; the 4H Honey bee project; How beekeepers can engage youth in beekeeping and other agricultural projects
Ben Powell – Clemson University, Exotic hornets
Dr. Bill Kern-UFL – African bees:  history and status
Mark Sweatman: Raising Queens
Dr. Jamie Ellis – UFL, Recognizing and addressing queen related events
Beginner Tract:
What equipment is needed to get into bees?   Wes Bommer
Trade-off between 8 frame, 10 frame, 5 frame NUCs, deeps, medium, shallow supers: Allen Johnson
Splits & NUCs: Larry Coble
Collecting pollen: Vendors
Extracting honey: Vendors
Labels & honey House requirements: Angie Culler Mathews/Everette Reynolds
An Easy, Quick, and Accurate Method of Doing an Alcohol Wash: James Alverson
Alternate Tract:
New SC tax laws – Glenn Severt
Brownswood Nursery: pollinator friendly plants and improving soils so that the plants will produce higher nutrient rich nectar and pollen.
www.roundstoneseed.com  Upton, KY pollinator friendly seeds
www.ernstseed.com Meadville, PA   pollinator friendly seeds and how to plant
Saturday, July 24, 2021
SCBA Business Meeting
Dr. Deborah Delaney – UDEL – Honey bee diversity, queen breeding/selection
Clemson reports- Brad Cavin & Ben Powell
Dr. Deborah Delaney – UDEL- Honey bee nutrition
Leigh-Kathryn Bonner – Bee Downtown
Dr. Bill Kern – Apiary Pests
Bee Yard – NOTE: Participants need to bring their own veils and gloves to participate in the bee yard and must be properly dressed for going into the bee yard.
Speakers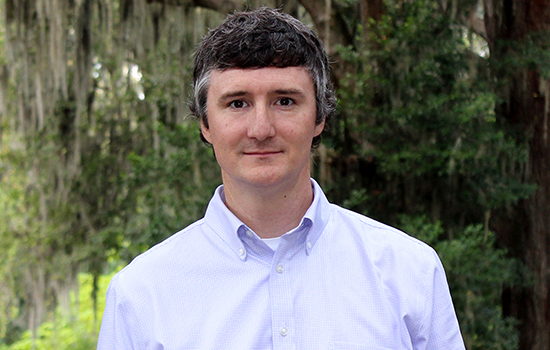 Dr. Jamie Ellis
Jamie Ellis is the Gahan Endowed Professor of Entomology in the Department of Entomology and Nematology at the University of Florida. He has a BS degree in Biology from the University of Georgia (USA) and a PhD in Entomology from Rhodes University in South Africa. At the University of Florida, Jamie has responsibilities in Extension, instruction, and research. Regarding his Extension work, Jamie created the UF/IFAS Bee College and the UF/IFAS Master Beekeeper Program. As an instructor, Jamie supervises PhD and masters students. Currently, Jamie and his team have over 30 active research projects in the fields of honey bee husbandry, conservation and ecology, and integrated crop pollination.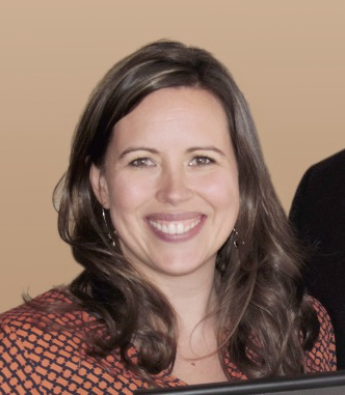 Dr. Ashley Burns
Ashley Burns is the State 4-H Youth Development Assistant Director Natural Resources, Science, and Volunteer Specialist at Clemson University. Ashley works closely with the State 4-H Leader and Extension Specialists, Agents, and Administration to provide statewide guidance and program development for 4-H, focusing on Natural Resources and Science Program areas. She also serves as the Volunteer Specialist for South Carolina 4-H. Ashley lives on a farm in Central with her husband Matt, daughter, and their dog.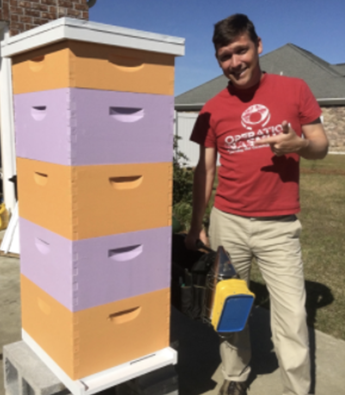 Ben Powell
Ben Powell is the Apiculture and Pollinator Program Coordinator at Clemson University. For as long as I can remember I have been fascinated by the natural world and the interactions of its inhabitants, especially the smaller majority (insects and other invertebrates). I believe that conservation and wise use of natural resources is essential to preserving ecosystem services, especially in developing communities, and the public has a vested interest in protecting pollinators and other invertebrates for the critical roles they play in maintaining agriculture and ecosystems. As the Apiculture and Pollinator Program coordinator, my primary goal is to provide educational resources for South Carolina's beekeepers and expand appreciation for all insects and invertebrates, especially those that pollinate South Carolina's farms and forests.
I focus my education and outreach programs on two areas: 1) advancing apiculture and beekeeping and 2) improving public awareness about the importance of pollinators and invertebrate biodiversity.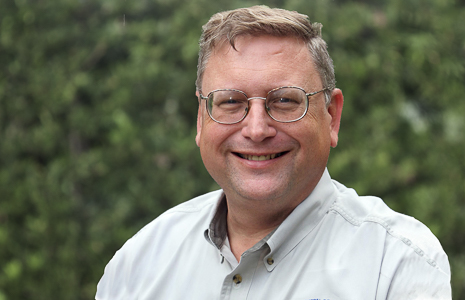 Dr. Bill Kern
Dr. Bill Kern is an Associate Professor in the Department of Entomology & Nematology at the Ft. Lauderdale Research and Education Center of the University of Florida.  He served as an Assistant Extension Scientist (Central Florida Wildlife Extension Specialist) with the Department of Wildlife Ecology & Conservation, University of Florida from 1993 until 2000.  He served as an Assistant Professor (2000-2007), and Associate Professor (2007- present) in the Department of Entomology & Nematology at the Ft. Lauderdale Research and Education Center. His areas of expertise are Urban Entomology, Africanized Honey Bee Management, Vertebrate Pest Management, Nuisance Wildlife Management, and Medical / Veterinary Entomology.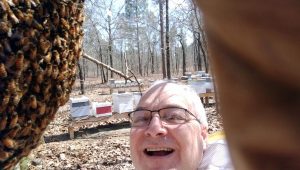 Larry Coble
Larry Coble of Lexington, SC started with bees in 2011 by relocating a colony that had taken up residence in a squirrel box on his property.  recently he fluxes between 3-50 hives for pollination, extracted and comb honey, nucleus hive production, and sometimes, with luck, queens.
Larry teaches at the MId-State Beekeepers' class and has presented talks to several local South Carolina associations as well as SCBA's last Summer Conference in Charleston. He has served as Secretary for Mid-State Beekeepers Associaton, continues to contribute to the MSBA monthly newsletter, and has published articles in Bee Culture and ABJ. In 2020 he authored and released into the public domain, a twenty-one-page guidebook titles, Journeyman to Master Beekeeper – A Learning Guide with Materials and Methods. Larry has garnered multiple blue ribbons on the South Carolina State Fair for honey and beeswax entries. In 2018 he became an Eastern Apicultural Society Certified Master Beekeeper and currently serves on the EAS MBP Certification Review Committee.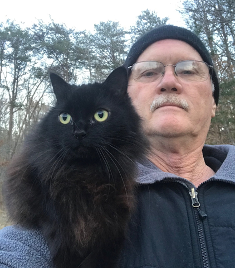 Mark Sweatman
For my day job, I am a mechanical engineer for TyTek Group. On the side, I operate Dark Corner Apiary and have been keeping bees for around 20 years.  My primary focus is queen rearing with an interest in selection for mite resistance and breeding. As part of my apiary business, I manufacture and sell an instrumental insemination device and a few other unique bee keeping accessories.  I organize the Certified Bee Class for the  Spartanburg Beekeepers Association.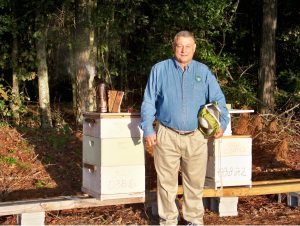 David MacFawn
David Elgie MacFawn: David has kept bees in Maryland (Dark German bees), Virginia (Italian), North Carolina (Italian), Colorado (Russian), and South Carolina (Italian and Russian Hybrid).  He is a North Carolina Master Craftsman Beekeeper (October 16, 1997), Co-Founded the South Carolina Master Beekeeping Program, awarded 1996 and 2020 South Carolina Beekeeper of the Year, assisted Dr. Fell at Virginia Tech in the Virginia Master Beekeeping Program, Incorporated the South Carolina Beekeepers Association as a 501 C 3 Non-Profit Corporation, and published several (over 40) articles in the American Bee Journal, Bee Culture, and Beekeeping: The First Three Years. He currently publishes in Bee Culture.  David has published three books,  Applied Beekeeping in the United States by David MacFawn, published by Outskirts Press  ,     https://outskirtspress.com/BeekeepingTipsandTechniquesfortheSoutheastUnitedStatesBeekeepingFinance  &   https://outskirtspress.com/gettingthebestfromyourbees.
During the Eastern Apicultural Society meeting in Greenville, SC, July 15-19, 2019 (where he served as Co-Program Chair) he received his Eastern Apiculture Society Master Beekeeper certification.
From July, 2020 to January, 2021 he was a consultant to Bee-Downtown where he identified honeybee to Six Leadership Domains correlations and colony management enhancements.
He also developed, marketed, and supported spreadsheets analyzing financial aspects of the honey and pollination businesses, and beeswax candle production and sales.  David has a BS in Electrical Engineering and a Master's in Business Administration with concentrations in Finance and Operations Research.  David was in the computer business for over 30 years and was a Customer Service Program Manager responsible for worldwide support planning, training/education, logistics, call-center support, and professional services at Sun Microsystems and a subset of this at NCR. David was also a Federal Systems Product Manager responsible for new DOD system definition and development at Data General.  David resides in the Columbia, South Carolina, USA area and is an active sideline beekeeper.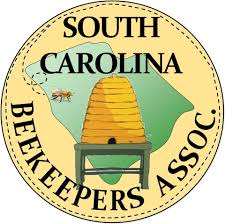 Robert Hoffman
Robert Hoffman is the Restoration Ecologist and Wildlife Biologist for Roundstone Native seed, LLC. He travels the eastern United States promoting the use of native plant species and consulting with clients on the proper installation and management techniques for native species for a wide variety of land uses. Robert has a Bachelor of Science in Natural Resource Management from the University of Tennessee at Martin and a Master's of Science in Wildlife Ecology and Conservation from the University of Florida. Before joining Roundstone Native Seed, he worked at Tall timbers Research Station and was a partner biologist with the KY Dept. Of Fish and Wildlife Resources and the USDA Natural Resouce Conservation Service.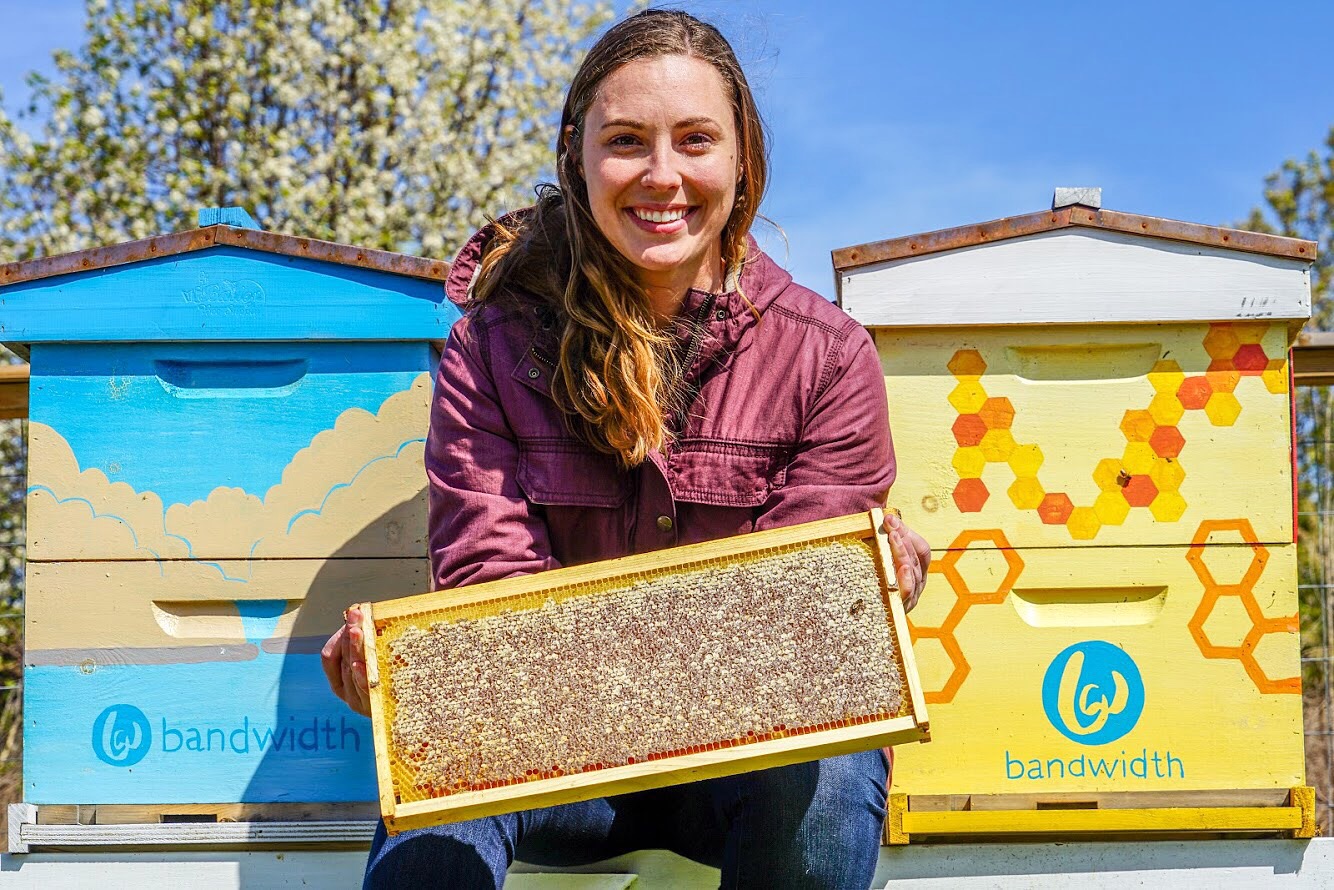 Leigh-Kathryn Bonner
My name is Leigh-Kathryn Bonner and I am the founder and CEO of Bee Downtown and the BDT Leadership Institute. At Bee Downtown we install and maintain beehives on corporate campuses through our Corporate Hive Program and have a biomimicry leadership development institute where leaders and aspiring leaders from all over the world can come to learn about effective leadership through lessons learned by one of our most efficient and effective communities: Honeybees.
Bee Downtown currently maintains hives and facilitates employee engagement and leader development programming for many of the country's largest and most influential corporations including Delta, MetLife, Invesco, Cisco, Georgia Power, AT&T, Chick-Fil-A, Cox Enterprises, and more.
Because of the bees, and the wonderful companies we work with, I have had the honor of being named a Southern Living Southerner of the Year, an Inc. Magazine 30 under 30 2018 Rising Star, and most recently to the 2019 Forbes 30 Under 30 list.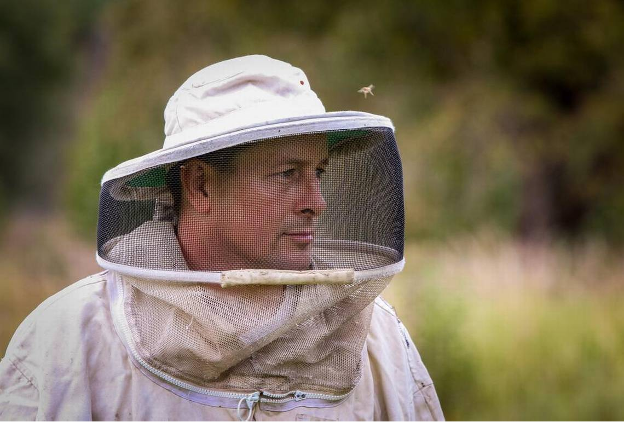 Danny Cannon
Danny Cannon has been keeping bees since 1998 and is the owner of Bee Trail Farm, an apiary located in Lexington, SC. Raising queens and selling local honey are his special_es. He is the past President of Mid-State Beekeepers Association and is currently President-Elect of The SC Beekeepers Association. Danny enjoys serving as a mentor and advocate for the beekeeping community.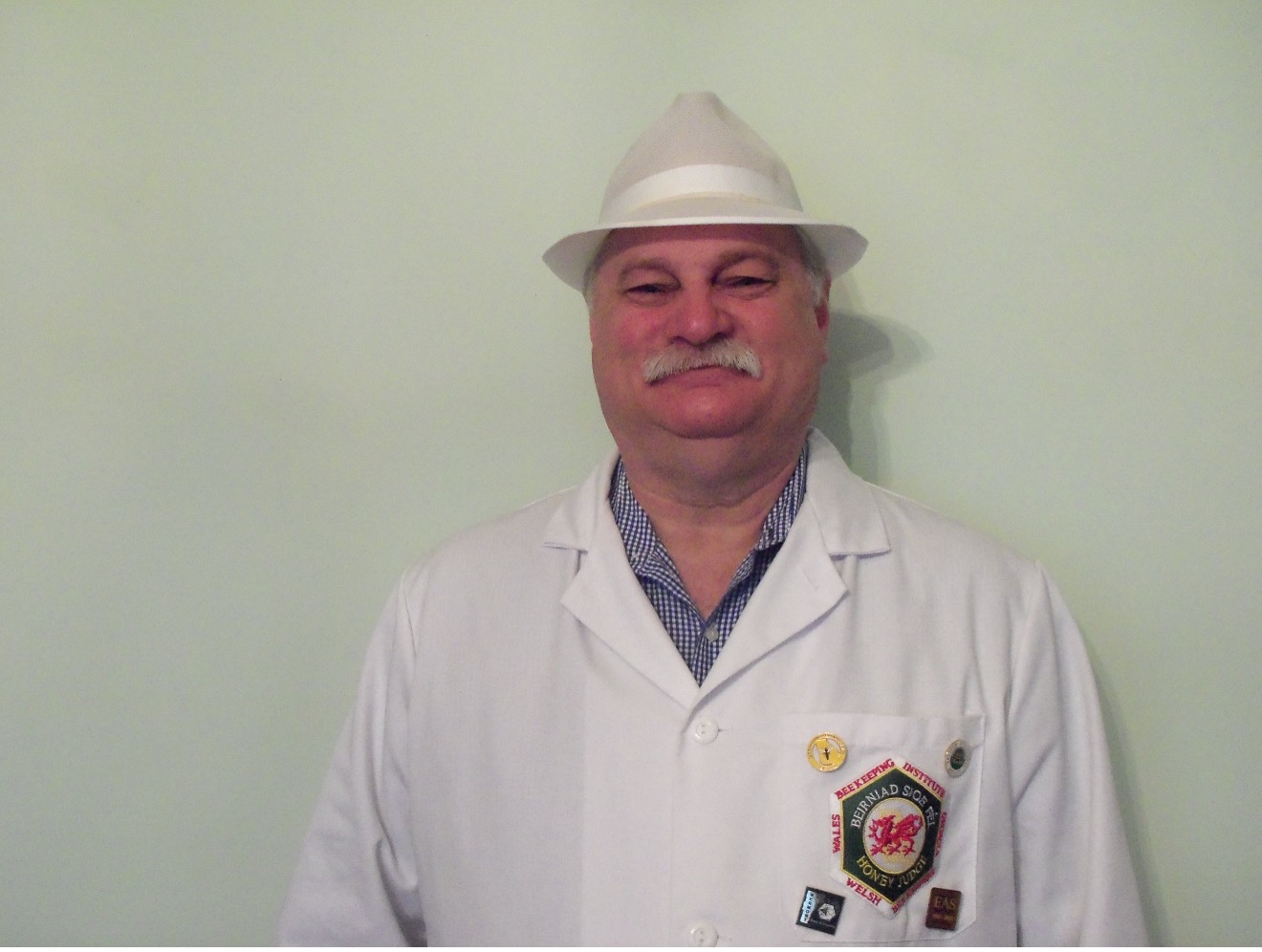 Steve Genta
Steve is a third-generation beekeeper and manages around 20 colonies at his home in Simpsonville, SC. He is South Carolinas first Master beekeeper, a Senior Welsh Honey Judge, and the headmaster of the SC Welsh Honey Judging Academy.
Steve coordinates and has judged the SCBA honey shows for many years. He is the senior judge for the SC State Fair honey shows. Steve has been teaching beginning beekeeping courses for over 25 years and gives beekeeping and honey show preparation programs to groups in several states. He is also an award-winning mead maker and received the best in show award for his mead at the 2013 EAS conference.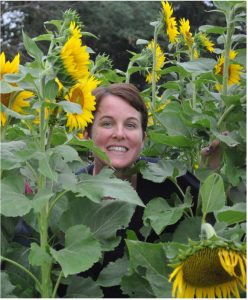 Deborah Delaney
Deborah Delaney is an associate professor in the Department of Entomology and Wildlife Ecology at the University of Delaware where she mentors graduate and undergraduate students working on various aspects of pollinator health and productivity. She teaches Insects and Society, Apiculture, Pollination Ecology, Aquatic Entomology and Bridging Art and Science: Environmental Communication. She has over 30 years of experience working with pollinators, specifically honey bees and maintains between 50- 100 colonies in and throughout Delaware, Pennsylvania and Maryland. Her research program has four main focal areas: 1) genetic identity and diversity of US honey bees 2) temporal stability of pollinator populations and 3) best management solutions for creating sustainable managed pollinator populations 4) pollinator nutrition and forage mapping.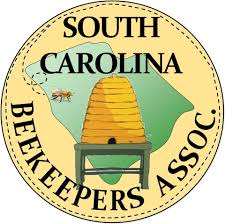 Rosalind Severt
Rosalind Severt is humbled to have recently received the Master Beekeeper Certification through the South Carolina Beekeepers Association. Having retired as a Certified and Master Teacher for Project Lead the Way, an Engineering Education program, where she was able to teach at several different Universities, she realized that she couldn't stop teaching. 
She and her husband own and operate Canebrake Apiary and Aquaponics LLC, which is Certified Naturally Grown. They've been keeping bees as a "tag-team" for several years, and have enjoyed teaching a few hundred new beekeepers, and opening their organic operation to teach and mentor new beekeepers of alleges She is a member of the SCBA, NCBA, GB, TVBA, and EAS.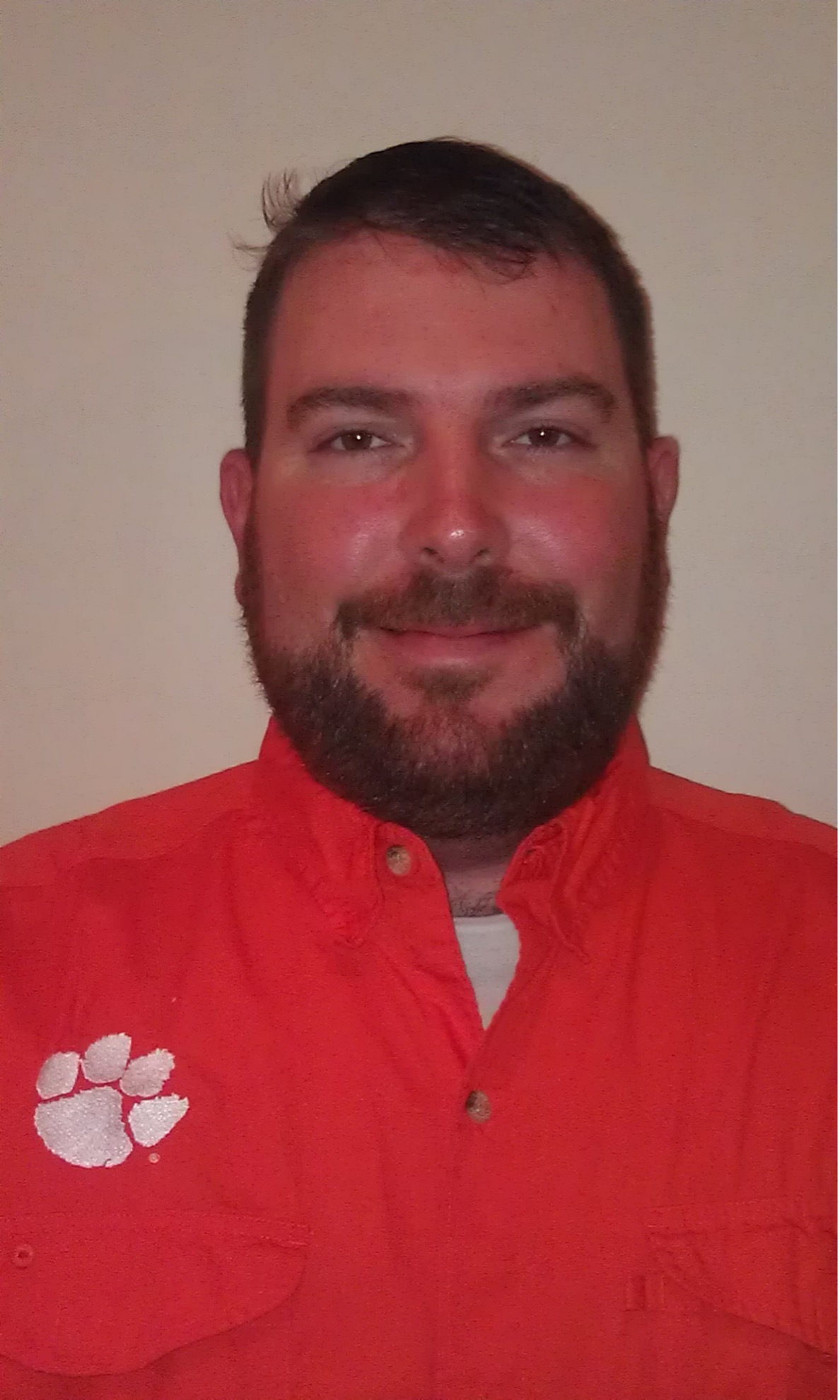 Brad Cavin
Stephen Bradley (Brad) Cavin began working for Clemson University's Department of Plant Industry (DPI) as a Plant Pest Regulatory Inspector in 2007. In 2013, Brad was appointed the Chief Apiary Inspector for South Carolina. In 2020, DPI officially began a full-time apiary inspection program. His responsibilities in this role include oversight of regulatory activities of the Clemson University Department of Plant Industry Apiary Inspection program in South Carolina. Brad conducts random inspections of beekeepers/queen breeders and investigates calls from beekeepers concerned about possible pests and pathogens. He recommends establishment of protective or restrictive quarantine as required due to disease or deleterious exotic species, and enforces the South Carolina bee laws and regulations. He educates the public by hosting discussions regarding honey bees and the laws that regulate the honey bee industry. Brad issues certificates of inspection for queen breeders and migratory beekeepers as well as certificates for exportation and importation commerce for colonies of honey bees.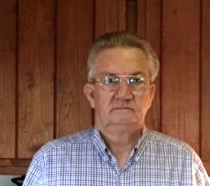 Wes Bommer
I have over twenty-five years of experience as a beekeeper.  I have over twenty years of experience of pollinating produce crops.  I was the founding president of one bee club.  I have been a two time president of another bee club in South Carolina.  I am the former SC State Beekeeper Association President.  I have been the Beekeeper of the Year for South Carolina.  I have over seven years as instructor/volunteer in the correction system in South Carolina.  I have over twenty years of experience of presenting short courses here in South Carolina.  I have certified people. I have run a journeyman course at Allendale Correctional Institution in South Carolina.  We have handicapped accessible hives at Allendale that I have established.  At Allendale Correctional, we have participated in mite studies to compare our results against that of the West Coast.  At Allendale Correctional, we will be participating in the bee informed project this year.  Some literature at Allendale has been translated into Spanish by the inmates.
I also am a columnist for a local newspaper in South Carolina where I write monthly articles regarding beekeeping.  I voluntarily speak at schools, public events and volunteer several days at the South Carolina State Fair.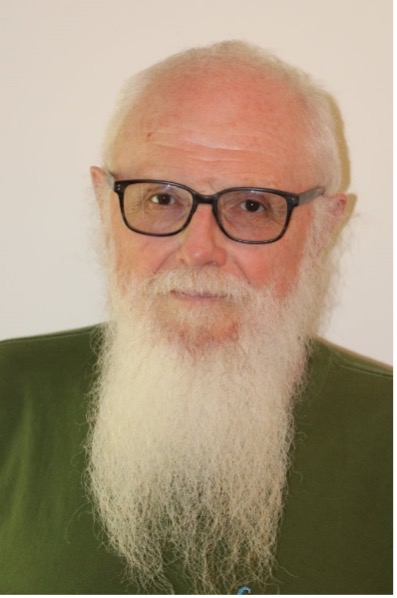 James Alverson
James Alverson is a Cornell University Master Beekeeper who keeps bees for minimal pollination in his garden, modest honey production, and just the joy of working bees.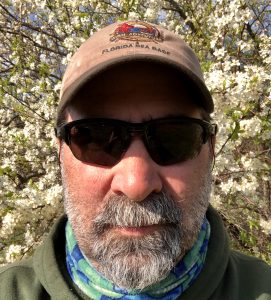 Greg Kedzierski
I have been a Plant Material Specialist/Bioengineering manager with Ernst Seeds for the last 18 years. Prior to that I worked for 10 years in Soybean Breeding/New Crops Introduction at Virginia State University's MT Carter Agricultural Research Station as well as the Virginia State Seed Laboratory in seed technology.
I currently work with clients/customers ranging from home owners to the Federal Government on a wide variety of Native Bioengineering Materials and Seeding's for Stream/Wetland Restoration to Native Landscapes, Pollinator Habitats and Re-wilding Projects.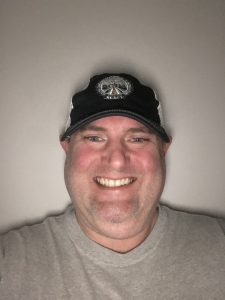 Everette Reynolds
Everette Reynolds is the Compliance Officer for the South Carolina Department of Agriculture.  Be has been employed with the Department since 2013.  Prior to SCDA, Everette worked at SCDHEC in the Food Protection Division starting in 2006.  Everette graduated from Johnson & Wales University and has worked in the Food Industry since the 1990's.  He is very excited to be a part of the SC Beekeepers Association Meeting this year!